Shoin Junior and Senior High School is an all-girl school that has a Christian spirit as its pillar, and uses the phrase "A Grain of Mustard Seed", which is a passage from the Bible, as an educational philosophy. Just as a tiny mustard seed grows into a great tree, Shoin, through its instruction, wants its students to constantly reexamine themselves and discover a new self by breaking out of their shells and, as an extraordinary young woman, become a contributing member of society. The school motto, "Open Heart, Open Mind", means students are expected to overcome global society's barriers, such as nationality, race, ethnic group, religion, or gender and to accept and embrace all people honestly and with love. Shoin seeks students who understand this philosophy and would like to be a part of it.
■ Developmental Stream(DS)
Applicants should have respect for themselves and others, have good communication skills, and be self-sufficient. Also, they need to have a desire to improve upon themselves step by step not just more than yesterday, but also today as they head into tomorrow.
Good attitude in improve their Japanese ability through avid reading.
Willingness to join many various experience programs.
Willingness to improve their English ability.
Show interest in interacting with foreign cultures and develop international understanding.
■ Global Stream(GS)
Applicants should be eager to take on new challenges and be prepared to find their identity and path while respecting others from various backgrounds or cultures.
Good attitude to learn logical thinking, acquire vast knowledge, and learn ICT skills. They should be willing to work collaboratively in group based learning and group based projects.
Be thinking about entering high school and university with a global perspective and a desire, in the future, to do internationally-related activities or work either domestically or abroad.・English ability of CEFR* A1 or Eiken Level 3-4(word base of about 800 words) is preferable.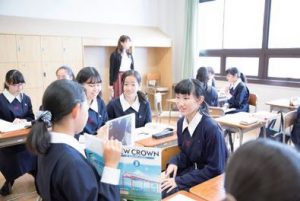 The main educational pillar, or key words, of Shoin is Bible and Language. Moreover,Global Mindset, Courage, and Resourcefulness are added to make 5 key words that are essential to education at Shoin. Through these 5 key words, female students will learn to survive and thrive in the 21st Century global society. Both in the Developmental Stream(DS)and Global Stream(GS), the curriculum is organized to not just increase English language ability but also to develop a global sense through English and encourage more independent learning while appealing to the students' five senses through classes.
■ Developmental Stream(DS)
Steadily acquire the prescribed learning content of the course of study and establish knowledge and skills.
Aim to acquire Japanese language skills in order to verbalize and textualize ideas deeply.
Strengthen the 4 English Skills( Listening, Reading, Speaking, Writing ) and promote international communication.
Promote learning that stimulates intellectual curiosity and inquiry within the curriculum and beyond.
Through school events and experience programs outside the school, support the acquisition of social skills and independence while nurturing students' self-sufficiency, ability to nurture lives, and ability to contribute to society.
■ Global Stream(GS)
Improve not just English ability、but the skills required in a global society. In particular, communication ability, ICT skills, flexible logical thinking skills, and the ability to express ideas.
Develop leadership ability and the ability to collaborate through PBL (Project Based Learning) in groups as well as individually.
Allow students to demonstrate what they learn inside and outside the classroom.
Understand and respect all people regardless of their race, ethnic group, religion, background, or culture.
Provide opportunities for learning and experiences to form a self-identity with a global perspective.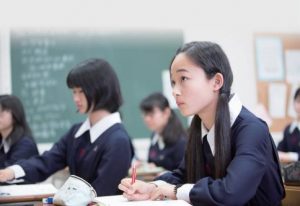 Diploma Policy(Objectives)
■ Developmental Stream(DS)
Students will acquire CEFR A1-A2 (Eiken Level 3 – Pre-2) and a balance of the 4 English skills. They will acquire skills to survive in a global society including knowledge and a solid foundation of mind and body.・Developed a mind that respects others and is able to verbalize thoughts, through various experience programs that relate to various aspects of society.
Demonstrate flexibility in communication with a global perspective. Possess the necessary knowledge to enter the LS High School course.
Able to face problems both domestic and foreign regarding peace and human rights.
■ Global Stream(GS)
Students will acquire CEFR B1 (Eiken Level 2・GTEC960 ) and have practical communication skills they can use without hesitation with a rich international understanding.
Ability to make presentations on a wide variety of topics, in both English and Japanese, using ICT tools and have the ability to research and analyze about any topic. From their findings, they will be able to make an action plan to practically achieve their goal.
Possess the ability to participate in group discussions and express their own opinion while respecting others. Ability to become an effective facilitator.
*CEFR(Common European Framework of Reference for Languages) 
| | |
| --- | --- |
| A1 Level | A basic ability to communicate and exchange information in a simple way. |
| A2 Level | An ability to deal with simple, straightforward information and begin to express oneself in familiar contexts. |
| B1 Level | The ability to express oneself in a limited way in familiar situations and to deal in a general way with non-routine information. |
|  B2 Level | The capacity to achieve most goals and express oneself on a range of topics. |