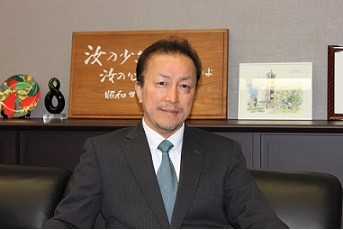 Principal Norimitsu Asai
■ Founding and School Name Origin
Shoin was founded in 1892 in the Kitano district in Kobe, missionaries who were dispatched from the Church of England. At that time, in the middle Meiji Era, the status of women was low. The school was established for the purpose of girls' education based on the principles of Christianity. The school name, which in Kanji characters means "In the shade of pine trees", was derived from 3 pine trees which stood on the west side of the school site. Currently, there is a monument at the site commemorating the original location of the school. Pine trees provide protection from strong winds and have long been a symbol and representation of Japan's land. Missionaries at that time thought "Pine trees are a very Japanese tree and represent modesty and purity. Having our students living and learning under pine trees with those ideals in mind are the perfect educational philosophy which we would like to convey to the Japanese people." Even to this day, Shoin teachers and staff are dedicated to educate students with the ideals of modesty, integrity, and patience in mind.
■ Inherited Spirit "Like a daughter, like a sister" "Open Heart"
When the school was founded, the words "Family Principle" were raised. At that time, students lived in dormitories and there was an atmosphere of nurturing and caring for them "like a daughter, like a sister". This educational philosophy continues to this day.
  The school motto "Open Heart" was first established by the 8th principal Ethel Marie Hughes who was a missionary from England. She excelled in linguistics, literature, and history. She was fluent in 4 languages which included Japanese. Her picture can be seen at the entrance to Ethel Hall, the cafeteria which was named after her. Although quiet in appearance, you could see in her eyes a strong determination of her willingness to sacrifice herself and her dedication to God all while living in a foreign country, far away from her homeland.
During a graduation ceremony, she said the following in Japanese. "Everyone, you made this school your home from morning to evening and became close to us teachers. We want to remain close friends with you even after graduation and continue to do all we can for you. We want you to feel welcome to come back to this school at any time. I want you all to keep thinking of us teachers, and the school with the same heart."
 Students and teachers should break down barriers to become like friends and family and build a deeply trustful relationship, even after graduation. Principal Hughes's hope was to create a free and lively school spirit, generous personality and attitude, and to fully embrace students. The spirit of "Open Heart" is deeply rooted here at Shoin.

■ "A Grain of Mustard Seed" Educational Philosophy and Goals
 The phrase "A grain of mustard seed" is taken from the Bible and is also used as a school motto.
【And He said, "How shall we picture the kingdom of God, or by what parable shall we present it? It is like a mustard seed, which, when sown upon the soil, though it is smaller than all the seeds that are upon the soil, yet when it is sown, it grows up and becomes larger than all the garden plants and forms large branches; so that the birds of the air can nest under its shade."】
Mark 4:30-32
Jesus picked up a small mustard seed and promised that it would change shape with the love and grace of God and eventually become a tree that would allow birds to nest on its branches.
Through learning here at Shoin, this "one mustard seed" constantly looks at itself, breaks old shells, promotes growth into a woman who is able to contribute to society, and establishes individuality by discovering a new self. It is our educational philosophy.
Our educational goal is to develop outstanding women. These women will have the will and ability to realize their dreams. They will also value not just themselves, but others as well. Their way of life will also be recognized and appreciated by the people around them. We would like to raise women such as these.
Under Christian education, I hope that they will come in contact with words from the Bible, have a time of prayer, and grow as a person. The following passage is taken from the Bible:
【Ask, and it will be given to you; seek, and you will find; knock, and it will be opened to you. For everyone who asks receives, and the one who seeks finds, and to the one who knocks it will be opened. Or which one of you, if his son asks him for bread, will give him a stone? Or if he asks for a fish, will give him a serpent? If you then, who are evil, know how to give good gifts to your children, how much more will your Father who is in heaven give good things to those who ask Him!】
Matthew 7:7-12
 Personal growth from Bible studies and prayer service help to cultivate the foundation for becoming a wonderful woman.
First of all, the Bible says, "Ask, and it will be given to you; seek, and you will find; knock, and it will be opened to you." These words teach us it is necessary to work hard at whatever is in front of you. For students, this means studying and improving your academic level. In addition, my hope is tht you can find what you want to do, what you are interested in, and what you are good at and then working hard to realize your dreams.
Next, working towards valuing yourself and others is important. The bible gives us a hint on how to achieve this. "So whatever you wish that others would do to you, do also to them, for this is the Law and the Prophets." This is also known as "The Golden Rule". If you want people to be kind to you, please be kind to others. If you want your parents and family to cherish you, always cherish your family. If you want people to greet you, please greet others yourself. If you do not want to be spoken ill of or gossiped about, please do not do so towards others. Also, do not let others do what you yourself do not want to do. Keep in mind the ideas "do what you want people to do" and "do not do what you don't want them to do".
Finally, be close to people's feelings. Shoin has prayer service and bible study classes. During prayer, we are always required to imagine the feelings of people in suffering and sorrow. Also, we are asked to imagine the feelings of a sick person, a person who has lost a loved one, a frail person, or a person who is hurting and be close to that person's heart. Then we are asked to pray that the suffering and sorrow of that person will be healed. People who are close to people's feelings and who can pray for their healing are recognized and loved everywhere in the world.
■ School Motto "Open Heart , Open Mind."
Japan faces a global society at an unprecedented speed. The number of foreign tourists visiting Japan has greatly increased over the past few years and the number of short-term and medium-term language students as well as business people staying in Japan has also been increasing. Everyday life will become more global in the future. In these circumstances, the skills junior and senior high school students should acquire are, firstly, English and other language skills as communication tools, and secondly, an attitude of understanding and respecting different cultures. To be more specific, it will be necessary to improve your English and acquire some knowledge of other foreign languages too. Since cross-cultural contact occurs in a global society, an attitude of understanding and respecting different cultures is essential. By using language learning as an opportunity to understand different cultures, you will acquire the ability to adapt to a global society.
Shoin has an open heart spirit. Being open-minded and accepting others is an open-hearted spirit that transcends nationality, race, and ethnic boundaries. This is the first step in living in a global society. On top of that, it is necessary to foster women who have no prejudices in any way, avoid stereotypes, and treat others fairly with open-minded thinking. A woman with inseparable human love is the kind of woman the world needs in the future. We would like to be a school that fosters the ability to live as a human being and as a woman in various environments both domestically and internationally.